Should I feel guilty about spending the kids' inheritance money?
Posted by Chris Collard on 27 September 2016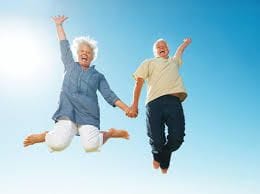 'What happened to my inheritance?' you can hear your kids say (hopefully) years from now. Here's what you ought to know about retirement planning and spending the kids' inheritance.
Planning on going SKI-ing? And, no, we're not talking about hitting the Swiss slopes next winter. We mean Spending Kids Inheritance.
If you're weighing up whether to travel during your retirement, buy a luxury car or simply enjoy living the high life after years of working hard you have probably considered dipping into the kids' inheritance to fund it, right?
Don't worry you're not alone. But should you feel guilty about spending the kids' inheritance money? No, here's why:
1. Your kids will (or should) have more superannuation stashed away than you by the time they reach retirement. Compulsory superannuation was not introduced until 1992. So, chances are if you're 50 plus and contemplating retirement you will need a smart money management strategy in place to ensure you can live the type of retirement you want. Your kids', however, will have their whole careers of compulsory super contributions (plus some, if they are a money savvy) to draw on later in life.
2. Kids' these days are perhaps more money smart than their predecessors. And for that, they've got you to thank! You've lived through a couple of share market and property crashes, the introduction of the GST and compulsory super. This means, you can educate your kids' on how to be money wise. After all, if you instill great financial habits in your children, they will be more self sufficient and not reliant on your inheritance in the future.
3. You've spent your whole life providing for them, and now it's your turn!
Having said all that, you are still their parent. And, most parents want to leave some money behind for their children to help them get ahead. So, can you afford to live the retirement of your dreams and leave some inheritance money for the kids?
To find out, the first step is developing a retirement plan that's tailored to your personal financial needs and goals.
A great place to start is with the Association of Superannuation Funds of Australia Retirement Standards.
Put simply, these standards can be used as a budget driven guide to understanding what your ideal retirement might look like. This includes analysing different cost of living items at today's prices.
Remember to also consider what expenses you might face in retirement. For example, there's every chance of incurring rising medical expenses as you age. And, what can catch retirees off guard are other costs such as: your mobile phone and internet bill might jump because you have more time to call people and surf the net. Or, your transportation costs, that were once covered by your employer, are rising.
Once you know what type of retirement you want and roughly how much it will cost you, speak with a money management expert to find out where your retirement income stream will come from, and how much the kids might be left with in the end.
For more advice on smart retirement planning Contact us today or visit our online Retirement Resource Centre.

Author:
Chris Collard
About: As a keen investor myself, my passion is to make sure you are investment ready when opportunity knocks
Connect via:
LinkedIn