All you need to know about off the plan contracts.
Posted by Chris Collard on 18 October 2021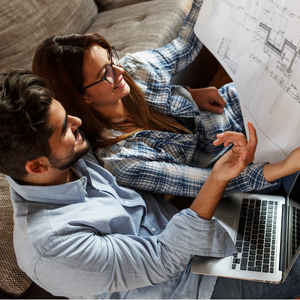 Considering buying a property off the plan? Read on to find out what you need to know if you're thinking about buying off the plan in 2021.
What does 'buying off the plan' mean?
When you buy 'off the plan', it means the property you're buying is not built yet. Typically, you'll only have to pay the deposit upfront, then the balance of the purchase price once the property is completed. Because an off the plan purchase is a new build home, you may qualify for stamp duty exemptions or first home owner concessions, depending on your circumstances. (Check your state or territory's rules online).
What are the risks?
Lenders may offer conditional approval for off-the plan purchases, but they won't lend you the funds until they have performed a valuation of the property upon completion. Should your completed off-the-plan property be valued at less than the contracted purchase price a lender may not lend the amount required to complete the sale. This may mean clients need to contribute more than they originally had budgeted (and in some instances these may funds they simply do not have).
There may also be other risks with purchasing an off the plan property, including:
The final product may differ from your expectations.
There may be delays or the development may not proceed. Your deposit should be refunded if this happens, but in the meantime, your money will have been tied up.
If the developer holds on to your deposit (rather than putting it in a trust account), your money may be at risk if the developer goes bankrupt.

Terminating an off-the-plan contract
Terminating an off-the plan contract can be tricky, but there may be grounds to do so. For example, if the vendor has engaged in misleading conduct or the developer doesn't complete construction before the sunset date, you may be able to terminate the contract.
However, if you want to terminate the contract because a lender has valued the completed property at less than the agreed purchase price, you may have difficulty. You could potentially lose your deposit and may have to compensate the developer for any loss.
Seek legal advice about your options if you wish to terminate an off-the-plan contract. More importantly, ask your solicitor/conveyancer to examine any contract before you sign, to ensure you have appropriate exit clauses in place more about this below.
Selling before settlement date
Some buyers decide they want to sell the property before settlement. This is legal under most off-the-plan contracts and can prove to be lucrative if the property's value has gone up, but there are risks involved.
Key considerations:
Have your solicitor/conveyancer check that the contract allows for re-sales prior to settlement.
Speak to your accountant about the tax implications of reselling the property (you'll likely be up for capital gains tax).
You'll have to pay stamp duty, additional legal fees and any agent's commission, so be sure to factor these costs into your calculations.
If you find a buyer but your contract with them falls through, you'll still be bound to settle with the developer.
Ask the developer to include a clause in the contract that allows you to terminate it if the completed property is valued at less than the agreed price.
Talk with FinancePath before you get started.
If you decide to proceed with your off the plan purchase, FinancePath can help to organise pre-approval on your home loan. We can also refer you to a reliable conveyancer or solicitor to help you avoid the legal pitfalls.
Where to now?
If you'd like more information on how to get into you first home sooner and make your home ownership dream a reality contact the FinancePath team for a 10-minute chat today.

Author:
Chris Collard
About: As a keen investor myself, my passion is to make sure you are investment ready when opportunity knocks
Connect via:
LinkedIn