3 mistakes to avoid when choosing a low doc loan
Posted by Chris Collard on 31 August 2016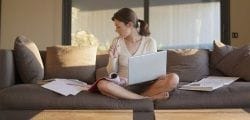 Taking out a low doc home loan can help self employed borrowers get ahead if you avoid these common pitfalls.
Now, the real truth about low doc loans is that they provide self employed borrowers with flexibility.
Just because you are self employed shouldn't mean you can't have the business and home of your dreams. Right?
Put simply, low doc loans are a financial solution when you either don't have the financial documents required by banks to take out a full doc loan, or you have a poor credit history. Perhaps you've had ATO debt, late payments on a credit card or even been declared bankrupt.
Whatever your financial history, low doc loans can play a valuable role in helping self employed borrowers build wealth. But there are some common mistakes to avoid when choosing a low doc loan.

MISTAKE #1:
Doing it for the wrong reasons

It's one thing to take out a low doc loan because you can't prove your income, but it's another thing entirely if you simply don't have the income.

Borrowing more money to solve the problem of not having enough money is not a smart solution. You will simply end up in a worse financial position than you began.
MISTAKE #2:
Borrowing more than you need

Sometimes it makes sense to borrow more funds than you immediately need. Or,
accessing your equity for the future use can be a proactive and smart wealth creation strategy, as well as qualify you for a better interest rate.
However, when it comes to low doc lending, a bigger loan doesn't always mean a better rate.
This is especially true if you don't have the greatest credit history.
Some lenders in the low doc space may charge Mortgage Risk fees instead of mortgage insurance. What's more, you could be made to pay mortgage insurance premiums when you borrow more than 60% of the property value, unlike the traditional 80% with standard home loans.
So, before you borrow as much as you can get your hands on, talk through and understand the benefits versus the higher interest rate and potential fees.

MISTAKE #3:
Not having an exit plan

It's true some borrowers may decide to take out a low doc loan to help them create long term wealth because they enjoy the flexibility this type of funding offers, and they are happy to pay a premium for that flexibility.
However, most of us simply want the most competitive interest rate and lowest fees available so that we can get ahead, right?. This is where working with a lending consultant who specialises in low doc loans can help. If you want to use this type of funding as a stepping stone, you need an exist plan for when you will be in a position to obtain more competitive funding in the future.

Ultimately, low doc loans should be seen as a means to an end. A starting point of a longer term plan to help build your wealth.
Got more questions about low doc loans? See our must read Self Employed Home Loan FAQ .

Author:
Chris Collard
About: As a keen investor myself, my passion is to make sure you are investment ready when opportunity knocks
Connect via:
LinkedIn