3 financial considerations when preparing for a grey nomad lifestyle
Posted by Chris Collard on 27 September 2016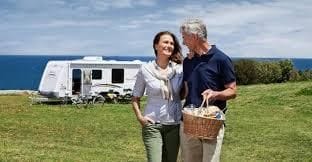 Retirement, caravanning, sand between your toes, it all sounds pretty good, right? But how do your nomad travels financially stack up?
Has the thought of being a grey nomad got you excited? Retiring to travel Australia (or beyond) without a care in the world. Leaving behind the old house and lifestyle for a spot of caravanning. After all, you're never too old for an adventure.
Well before you sell up everything and kiss the kids and grandkids goodbye, there are few financial considerations worth taking.
Because, let's face it, even after months of sunshine, evening beach strolls and morning stretches of the great open road you might actually want to return to your home one day and pick up where you left off figuratively (and financially).
So, here are our top three financial considerations when preparing for a grey nomad lifestyle.
1. WHAT DOES YOUR PARTNER THINK
Making sure you're on the same page as your partner when it comes to financial planning is a must at any stage of life, but particularly if you're considering becoming a grey nomad. Why? Because this is not the time in your life to be putting yourself under any financial stress. And, while you may have enjoyed shared financial goals throughout your relationship so far, if your other-half is not as open to the nomadic lifestyle as you, things could end badly. To find out if you still have a compatible money mindset take our short quiz.
2. THE THING ABOUT SELLING UP TO BE A GREY NOMAD
There's no doubt that selling your house is a sure fire way to fund your nomad travels. BUT, where will you live when you're done? And, if you do sell, there's a fair chance that property prices will have risen by the time you get back making it difficult to re-enter the property market. To help, take a look at our property reports to understand how your suburb is tracking and what properties will be worth in the coming months and even years. Alternatively, if you keep your house you could consider accessing some of the equity in your home, or renting it out to help fund your nomad travels.
3. KNOWING YOUR RETIREMENT INCOME STREAM
When it comes to retirement, even though you're planning on caravanning into the sunset without any obligations or agenda, you must have a financial strategy for where you will derive your retirement income from. For example, it usually comes from two main sources.
1. Regular monthly income such as pensions, annuity payments, salaries for part-time work and the Commonwealth Age Pension.
2. Returns on investment such as interest or other forms of growth such as dividends derived from capital (or lump sum) investments.
For more retirement advice see our 10 Years to Retirement Checklist, and visit our Retirement Resource Centre.

Author:
Chris Collard
About: As a keen investor myself, my passion is to make sure you are investment ready when opportunity knocks
Connect via:
LinkedIn