Things to remember when moving house
Posted by Chris Collard on 13 June 2017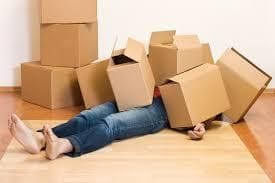 Moving house does not have to be stressful if you follow these tips before and during the big day.
Moving house can be hectic, but with this checklist you can keep track of your finances and furniture without too much stress!
One month to go
A month before you move is the perfect time for cleaning out anything you don't need to take with you sell or donate unwanted items and arrange for a council bin collection for anything left over. It's also worth pre-booking your removalist now to ensure you secure your preferred company and moving date. Book any cleaning assistance you may require and follow up with schools or other services in your new location. Set a time to advise places like Australian Post, banks, schools, medical and utility service providers, family and friends of your new address.
Money matters
Just because you have purchased the right house, doesn't mean your smart money decisions should stop now. Find out about things like moving insurance this could be provided by your home contents insurance provider, the removalist company or a specialised moving insurer. Plus, make time to compare the best deals for gas, electricity, phone, internet and any pay TV contracts for your new home.
How to pack
The most important part of packing is labelling your boxes including what's inside each and which rooms they are intended for in the new home. Set aside bed linen and towels to be used on your first night there, and group together important documents regarding the move so that these can be easily accessed on the day. Remember to keep important items such as wallets, phones, keys, power chargers, medicines, your snacks and even pet food together.
On moving day
On the day of the move have a survival pack ready including things you might need quickly such as cleaning products, essential toiletries including toilet paper, an allen key, screwdriver, hammer, scissors, lightbulbs, a kettle, coffee or tea and snacks. Empty your fridge and freezer into an esky. Give clear instructions to the removalists, and check for anything they might have missed. Ensure the gas, electricity and water metres have been read and turned off if necessary, and disconnect the telephone and internet. Leave all instruction manuals and keys out for the new owner. In your new home, check you have the instructions for appliances and keys for all of the doors and windows. Assemble and make the beds, and have the locks changed as soon as possible.
Once you're all settled into your new home you might be interested in the best ways to start reducing your debt preparing for the next investment opportunity. Visit the FinancePath Reducing Debt Resource Hub.

Author:
Chris Collard
About: As a keen investor myself, my passion is to make sure you are investment ready when opportunity knocks
Connect via:
LinkedIn