FinancePath named state finalist at MFAA's Excellence Awards
Posted by Chris Collard on 6 April 2022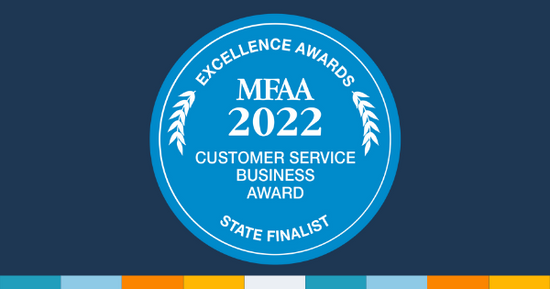 FinancePath has been announced as a finalist in the Customer Service Business category at the annual Mortgage & Finance Association of Australia* (MFAA) State Excellence Awards.
The Awards highlight brokers, broker businesses and staff who have demonstrated exceptional customer service, professionalism, ethics, growth and innovation.
This is FinancePath's second year as a finalist in the MFAA Excellence Awards.
Judged by an independent panel of industry specialists, business professionals and experts, the MFAA Excellence Awards are the most rigorous in the Australian mortgage and finance industry.
"We are honoured to have been recognised by our industry peers and to have been named as a finalist for this Award," said FinancePath Director, Mark Attard.
Over the past year FinancePath has delivered outstanding service for their customers.
"FinancePath take a very different and personal approach to our customer's finances. We believe excellent customer service starts with taking the time to truly understand what customers wants and how we can help achieve their goals".
"Being named a finalist in the Customer Service category validates the team's dedication, passion and commitment to our clients and our ability to help bring their GREAT to life", Mark Attard said.
"The MFAA has acknowledged FinancePath as a state finalist. FinancePath has been rewarded for demonstrating their professionalism, integrity, ethical conduct, growth and innovation," the MFAA stated.
"To be recognised as a finalist speaks volumes of their exceptional practice and professionalism in the mortgage and finance industry," the MFAA added.
Over the last 20 years the awards have played a key role i?n lifting the standards of service and professionalism across Australia's mortgage and finance industry.
All finalists, including FinancePath, have an opportunity to be recognised as their state's winner. State winners will then be in the running to win the prestigious national title at the MFAA National Excellence Awards in July.
*The Mortgage & Finance Association of Australia (MFAA) is the peak national body representing finance brokers, mortgage managers, lenders, aggregator/broking groups and other industry participants, to assist them to develop, foster, and promote the mortgage and finance industry in Australia.www.mfaa.com.au

Author:
Chris Collard
About: As a keen investor myself, my passion is to make sure you are investment ready when opportunity knocks
Connect via:
LinkedIn